Stress Management for Athletes
If you love to train, chances are you've run into this issue: how do I manage my stress — good and bad — so I can keep making gains? Am I over-training? Under-training? How do I keep track?
Joshua Walters is a sports PT and USAW-L1 strength coach with a passion for building better humans. His fusion of music, stoic philosophy, and lifting adventures have encouraged his lifelong love of learning and coaching. Check out his top two methods for approaching load management in your training.

Tracking Your Workouts

Keeps The Balance
Fitness and exercise are fun, especially when you're seeing progress at the gym, in the mirror, or in your performance. But what happens when your #gainz slow down? Or your progress looks limited, or things are trending in the wrong direction?
Before jumping ship completely on your journey, take a look back at what you've been doing (or not doing) and you may find the missing pieces to the puzzle. It's time to check in with your training, because you should be able to keep making progress while reducing the chance of injury. The kind of training philosophy I'm focusing on here is called load management.
First, let's clarify a few terms.
Good Stress: Exercise, positive relationships, things that feel good but require energy
Bad Stress: Negative life events, increased anxiety, illness, experiencing loss
Load: Overall stress from exercise, work, sleep, life, etc
Volume: Sets and reps
Intensity: How hard are you pushing/working? (See this blog on RPE.)
Injury: More than sore, being unable to complete a movement/activity due to pain
#1. Are You Ready To Train Today?
Life is stress management. If we were to make a simple equation of understanding stress and how we adapt it would look something like this:
Good Stress + Bad Stress = Life (Homeostasis/Baseline)
When we're exercising or looking to make body changes in a consistent fashion, good stress needs to be higher than bad stress to drive a more positive adaptation (ie. improved running pace, weight loss, increased 1 rep max, etc).
On the flip side, if we have too many negative stressors in life or things become off balance (added work or family stress, lack of sleep, poor nutrition habits, illness) it can lead to more negative adaptations when left unchecked.
As a coach and physical therapist, knowing how prepared a client or athlete is can highlight the impact other life factors have on your exercise and your capacity to work toward your goals. This means checking in with your balance of stressors in life and how you feel going into a workout session.
TrainHeroic has a really useful Readiness Survey that can easily keep track of your stress trends to gauge how mentally and physically ready you are to train. You can also see how your readiness lines up with your progress.
This doesn't mean that you can only train when you feel perfect. But if you see a stretch of workouts with some low scores where those workouts seemed really hard, use that information to see what you might need to change in your routine.
When readiness is low, your best bet is to make sure you get enough sleep and adequate hydration. These are the two biggest positive habits that are easy enough to fix and have the greatest carryover for your fitness and body transformation.
#2: Are you over OR under-training?
Overtraining and undertraining can have similar impacts on reaching your goals and your chances of injury. If you spend all winter doing nothing and then go for a 10k run on a whim, there's a high likelihood you'll be managing some sort of acute overuse injury.
On the other hand, if you've been training too hard for too long, the likelihood of a chronic overuse injury goes up as well. Finding a "sweet spot" with exercise and stress management is a moving target impacted by numerous factors at any given time, but two of the biggest factors are overall volume and intensity.
Signs of Overtraining
When looking at your training log, can you see if you made big jumps in weight or overall volume in a short amount of time? Did you suddenly take all of your exercises to failure?
When you feel heavily drained every day and disinterested in your workouts, it could be a sign of overtraining. Your sleep and nutrition might even be trending down. In that case, prioritize your rest days and have a plan. Maybe you need a deload week or a series of active recovery days where you do something different. (Fitness for fun!) And chances are you should probably stretch and foam roll more often during off days.
Make sure to put rest days more consistently into your routine and find ways to vary your intensity and volume enough to build your physical adaptations toward your goals.
Signs of Undertraining
This one can be a little more challenging to identify. Undertraining can be easy to miss, but the most obvious sign is — are you making progress? Does everything feel too easy? Do you experience DOMS (delayed onset muscle soreness)?
Modify your workouts to increase your intensity once or twice during the week. Add interval training or tempo variations to your exercises so there are days where you feel good stress that you can recover from appropriately. Try a CrossFit class or play a team sport to learn new skills. Get yourself around athletes who work harder than you and have what you want.
The adage "everything in moderation (including moderation)" holds true, even with exercise. With all the information out there, the basics never really change: eat well, drink plenty of water, get enough sleep (8 or more hours on average), and be a good human. If you can keep these things in good balance 80% of the time, your progress is bound to come!
Want Training Tips, Exercise Guides & Knowledge Bombs Sent to Your Inbox?
Sign up for the FitNerd newsletter from TrainHeroic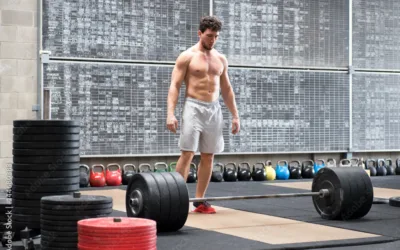 How many reps should you do for muscle growth? How can you get a better pump from a movement that usually doesn't make you sore? Tweaking your program to include high-volume and tempo sets is sure to get you the kind of size and strength you want from your training....
read more

Made with love, sweat, protein isolate and hard work in Denver, CO
© 2022 TrainHeroic, Inc. All rights reserved.