the free performance
fitness app
TrainHeroic does everything you wish your old gym notebook could do. 
That empty page had potential in the old days, but it was only as smart as the paper it was written on. This is the future, and your training log should work as hard as you do.
TrainHeroic is the free, fast, intuitive app that lets you define your goals and chase athletic greatness on your own terms. Use the ultimate strength nerd tools to create your own programming, track your progress, celebrate PRs, and get insights on metrics like stress and recovery.
Data for the modern athlete.
We are tech-forward fitness training, bringing performance to the people.
Take out the guesswork with an immersive training experience
Building your training sessions is a breeze with our built-in library of over 1,500 movements, complete with demo video and coaching points. Can't find what you're looking for? Just add a custom exercise.
Need a gym timer for rest, EMOMs, AMRAPs, or TABATA? Smart timers let you focus on training.
Data for the modern athlete
Personalized data helps you nerd out on your fitness journey & chase those goals.
Ditch the notepad, and upgrade to 21st century tools. 
Easily view your total volume lifted, hours spent training, and total reps in your Profile Analytics. Or, dig deeper to review your past performances and working max over time for any exercise.  
Easily build your training sessions before you hit the gym. Program sets using reps, weight, RPE, percentages, linear weight progression, time, distance, and more. Use our library of over 1,500 exercises or create your own for unlimited customization. 
No time to prep before you're in the gym? No sweat, you can log your session on the fly.
Progress takes progression. No need to start from scratch every time. Repeat your go-to sessions with just one tap.
Everything you wish your old training notebook could do
Built-in Exercise Library
1,500+ movements complete with video instruction and written points of performance guarantee you never run out of options.
Control your calendar
View your upcoming and past training sessions, move your training when something comes up, own your training.
Customize your session
Add extra work at the end of a session, log extra sets, change your prescription on the fly without ever leaving your training experience. 
train on your terms
Plan your training ahead or log on the fly .Copy and paste your go-to sessions for quick programming.
built-in smart timers
Need a rest timer? Doing AMRAPS or EMOM and don't want to fuss with your watch? Our built-in timers are here to keep you in your training flow. 
the tools you need
Trying to calculate 80% of your 1RM in your head? Use our built-in calculator and never leave your training flow.
Tailor your training
Prefer to start your training week on Monday instead of Sunday? Using KG over LBs? Customize your training profile and train your way.
celebrate your progress
Celebrate your PRs and graph your progress. Find joy in your training journey. Track your total volume lifted, total reps and hours trained. Join the TrainHeroic Millionaire's club by lifting over 1M lbs.
Train anywhere
Don't let travel get in the way of your training. Your programming, your coach, and your training data is right in your pocket. No matter where you're training, TrainHeroic is by your side.
Programming your way
Program for yourself, log your own training, or find an expert coach. TrainHeroic is the only app supported by a programming marketplace from the world's best coaches. 
See how you stack up
View global leaderboards, see how your lifts compare to other athletes like you and set real-time goals on any lift.
readiness insights
Unmatched readiness insights help you manage your recovery with the same attention you give to your training.
The Marketplace: Shop Expert Programming from Real Coaches
The TrainHeroic marketplace is the only place to purchase programming from the World's best coaches, delivered through the immersive training experience of the TrainHeroic app.
Browse from thousands of programs for any goal and every type of athlete.
Or, join a monthly programming membership to connect with a real coach and community of athletes training just like you. Try any programming subscription free for 7 days.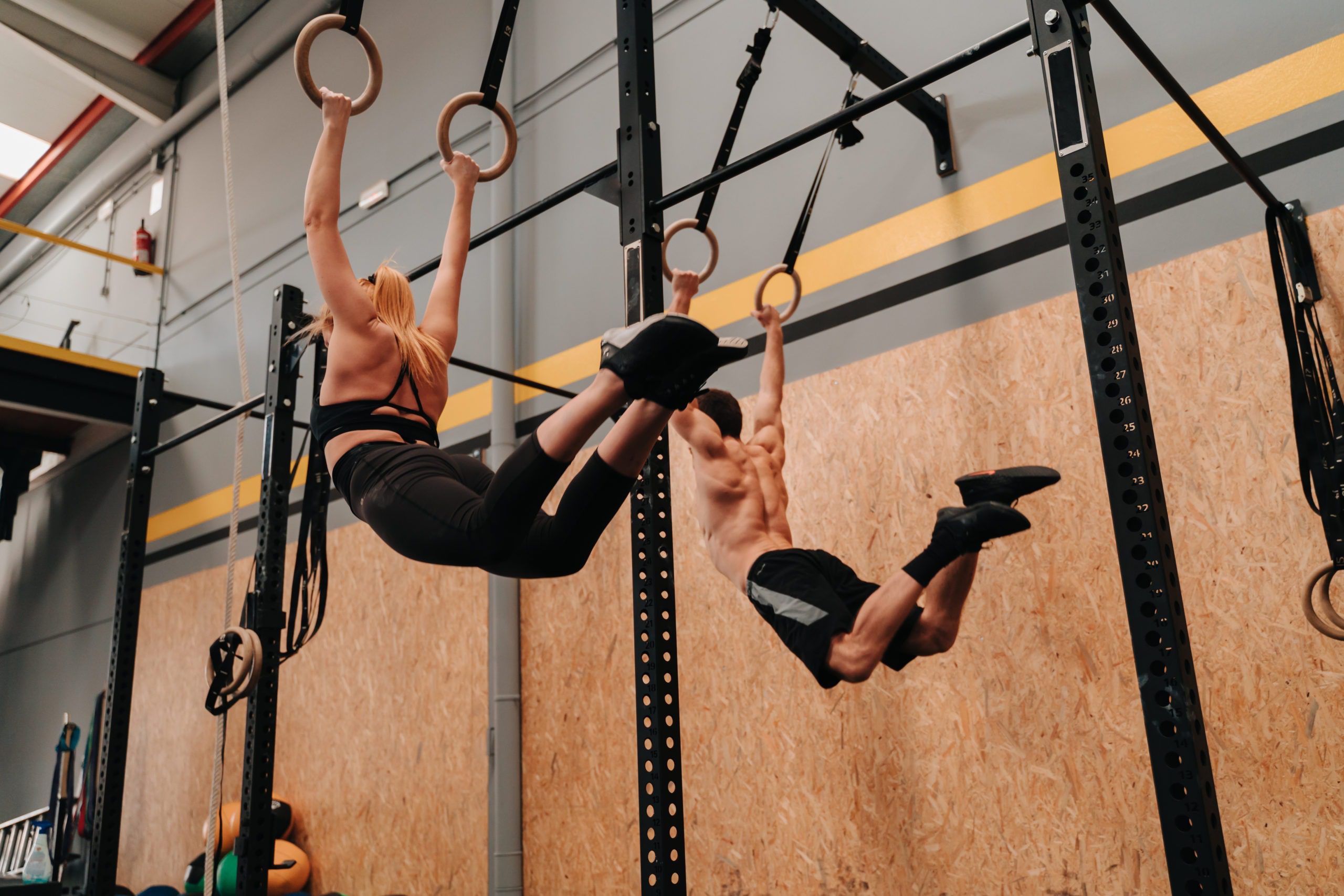 Take your training to the next level with expert programming from the TrainHeroic Marketplace
Two training options
Purchase a static program or a subscription to programming from your favorite coach for fresh weekly training delivered directly to your phone. Either way, ditch the old PDF programs and upgrade to 21st century training. 
Connect with a real coach
Signing up for a programming subscription gives you real access to your coach. Stay motivated, ask questions, and even get video feedback on your form. 
Community to keep you going
Programming subscriptions give you access to a community of other athletes from around the globe doing the same training as you.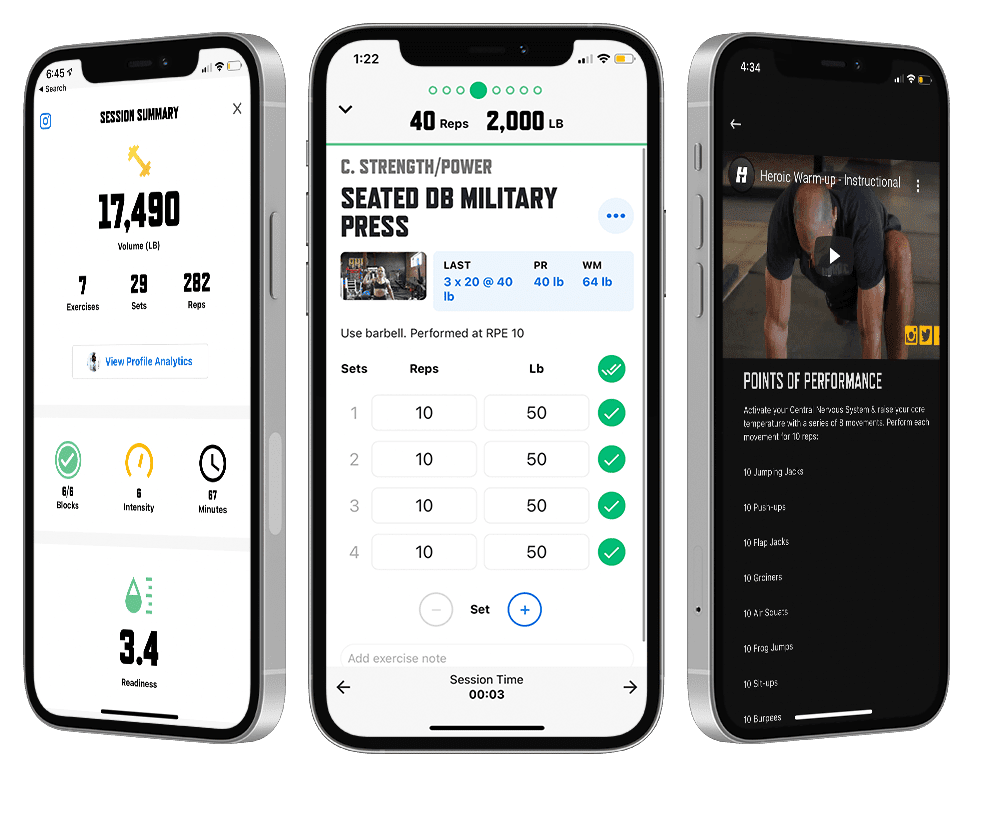 no matter how you train...
From general fitness to Crossfit, bodybuilding to powerlifting, find the perfect programming for you and your goals. Browse from thousands of options.
modern messaging makes connection fun
Chat with your coach or your training community using GIFs, videos, photos, and modern reaction. Make training fun!
Try it for free
All programming subscriptions come with a free 7 day trial and are month-to-month. Ditch that fear of commitment!
For years, I was the classic gym goer with no sustained plan or goals. The app made it easy to follow training sessions. TrainHeroic has been priceless when it comes to my training.
Chris sergison
PT, Avid Trainer, New Father, TrainHeroic Marketplace Subscriber
Getting back in shape has never been easy but this app sure helps.
After taking 5 years off from regular training and lifting. I found it difficult to jump into the swing of things until I started using the TrainHeroic app. I am becoming the best version of my gym self despite my new limitations. Thank you Morgan for helping make my transition back to working out fun and easy.
Shane W. (App Store Review)
Easy and Fun!
Love how easy it is to track my workouts. EMOM timer is awesome. So encouraging to see accumulated weight and track progress! I've lifted over a million pounds since I started using TrainHeroic 2 years ago.
LiftwMaggie (App Store Review)
A Must Have
TrainHeroic is an amazing user friendly app. In addition, the whole system/platform itself is one that's close to taking over the fitness world. I get immediate access to an huge selection of world class trainers and hard core workouts. I used to find the gym a bore (and didn't know what or how to do anything!) until TrainHeroic stumbled into my life. Between the workouts, blogs, and leaderboard my lifestyle is the strongest and healthiest it has ever been.
Nellie-June (App Store Review)
Simplicity at it's best
This app is simple, clean, and easy to use. It doesn't distract me from my workout and it has everything I need. There have been a few times when I thought I had an idea for an improvement and then I looked a little closer and sure enough, the app already had that feature. I especially like the ability to switch between kilograms and freedom units on the fly.
Thanks for a great app
Erik4Real (App Store Review)

DOWNLOAD
trainheroic's
free APP
Sign up for the latest training news and updates from TrainHeroic

Made with love, sweat, protein isolate and hard work in Denver, CO
© 2021 TrainHeroic, Inc. All rights reserved.