Being isolated from our gym family and familiar equipment led to some interesting adaptations in the fitness world. We realized a few things: you can do a lot with an empty barbell, bands are the most universal training tool, and gym rats are super innovative when something gets in the way of working out.
Lily is TrainHeroic's Marketing Content Creator and a CF-L1 with an English background. She was a successful freelance marketer for the functional fitness industry until being scooped up by TrainHeroic. An uncommon combo of bookish, artsy word-nerd and lifelong athlete, Lily is passionately devoted to weightlifting, CrossFit, yoga, dance, and aerial acrobatics. Find her showcasing her artist-athlete hobbies on IG @lilylectric.
5 things we learned from quarantine & lockdowns
(mostly that we're ready to never do that again)
Quarantine has been a curious new situation for most of us. Despite how introverts often feel, humans are made for social interaction. In the context of fitness, this usually means accountability from your friends and coaches at the gym – high-fives, shouts of encouragement during a hard workout, and the bond of communal sweat and suffering for personal betterment.
There's a reason solitary confinement is such a harsh punishment. Take away a person's social outlets and they slowly descend into madness. Similarly, take away a gym rat's access to weight and watch them start squatting with jugs of water or doing pullups at their kid's playground.
Anything to maintain those precious gains.
Here are a few things we realized over the course of our time away from friends, familiar spaces and fitness equipment.
#1 You Can Do A Lot Without Plates
Sure, you can do more WITH them, but don't underestimate the power of an empty barbell and a TABATA timer.
For most of last summer, plates in particular were constantly out of stock or marked up by 3000% on Facebook Marketplace. So we made do, trying stuff like 50-rep back squat sets without re-racking the bar, TABATA strict presses with the resting position in the front rack, or insanely long Bear Complexes.
Spoiler alert: all of those hurt.
Relying on dumbbells and kettlebells for weight can get repetitive, so being creative with an empty barbell became a useful at-home fitness skill.
#2 The Importance Of Being In A Training Community Varies For Everyone
Having some like-minded people to keep in touch with is a good way to maintain sanity during isolation. But the degrees of that in-touchness range across the board depending on your situation and preferences.
Some people built out their home gyms stunningly with every piece of equipment you could possibly need, but still returned to the communal gym setting because something about solo training in their garage just doesn't cut it. Other members you'll never see again because they're perfectly content in their home gym lair. Some do a half-and-half situation to balance WFH life, and some couples split the difference – parent A trains at home while parent B maintains their gym membership.
However it worked out for you and your gym fam, it's curious to note the different ways fitness regulars adjusted their training life according to pandemic shutdowns.
#3 Bands Are Probably The Most Versatile Training Tool
They're not just for rehab/prehab, warmup, pullup assists or IG booty models. Resistance bands are super cheap, lightweight, portable, and come in all sizes, lengths and resistance levels making them awesome for like, infinite training purposes. We think they're pretty underrated.
You can create some serious training stimulus for a huge variety of movements with just one set of bands – work on hypertrophy finishers, spicy stability drills, range of motion stuff, or use them to substitute basically any cable machine movement. If you have access to nothing else, put a set of bands in your suitcase and you'll still be able to train on vacation.
Or you can use something like WearBands to add resistance to household chores, yoga, and outdoor fun like hiking. The possibilities are truly endless.
#4 Fitness-Oriented People Can Be Incredibly Innovative
Turns out a global pandemic is great for distance coaching programs like those in our TrainHeroic Marketplace. With the boom of online programming, virtual workouts, and personal training via Zoom, there are more options than ever before for at-home fitness. 
We watched our beloved fitness communities around the world adapt to being without gym access. We saw people working out with all kinds of things when equipment demand was raging and Rogue had to hire a ton of new people just to keep up. We saw people getting creative with movements and workout space just to make sure they got a good training stimulus.
Isolation and quarantine highlighted the necessity for adaptation in the wake of losing our normal routines. Turns out, if you move your body regularly in a way that forces adaptation, your mind often follows suit.
#5 Having A Coach Makes Things Easy, But If You're Gonna DIY, Do It Smart
Programming for yourself can come with a ton of cherry-picking pitfalls. Having someone behind the screen to help track your personal performance data is necessary for a lot of athletes to make progress.
But if you're one of those athletes who prefers to program for themselves, TrainHeroic now offers an easy DIY system that's lightyears better than a composition notebook. You can create sessions, log your lifts, times, maxes/PRs, and keep track of other factors like sleep and stress levels.
Check out the most efficient tool for DIY athlete programming, here.
DOWNLOAD THE TRAINHEROIC
APP FOR
FREE
By downloading the free TrainHeroic app, you're joining a community of over 500,000 athletes chasing their goals and logging their training progress along the way. 
When we say "athletes," we're not just talking about the pros. We're talking about everyday athletes. Desk athletes, Mommy athletes, Artist athletes, and everything in between. To us, anyone committed to being their best. Willing to overcome. And striving to reach their potential is an Athlete.
Whatever fitness means to you, we're here to help you Be Your Best. Think of us as your new training partner, pushing you to places you've never gone before.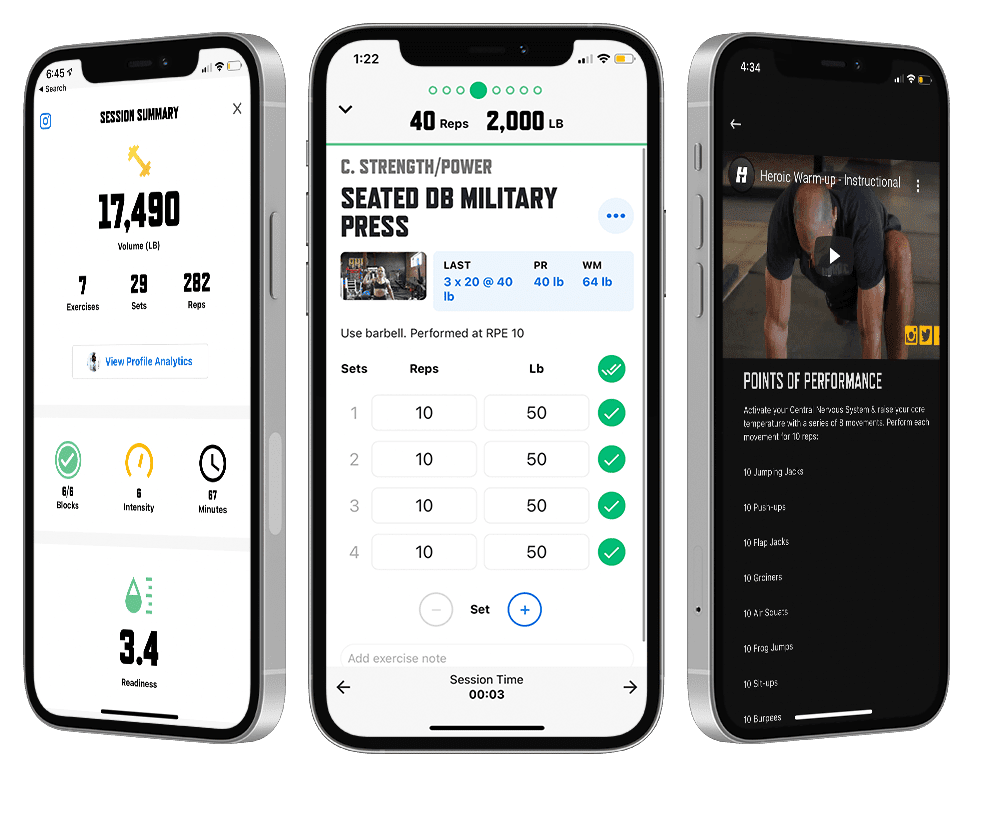 Want more training  content?
More coaches and athletes than ever are reading the TrainHeroic blog, and it's our mission to support them with the best training & coaching content. If you found this article useful, please take a moment to share it on social media, engage with the author, and link to this article on your own blog or any forums you post on.
Be Your Best,
TrainHeroic Content Team